The Jaime Hernandez Chronology


[Home] [1949-1981] [1982-88] [1989-95] [1996 +; Non-L&R] [Characters] [Links]
---
Compiled by Mark Rosenfelder
Corrections, quibbles, and other correspondence welcome.
Sources:
Magazines
#n
Love & Rockets comic issue n, 1982 - 1996
WN#n
Whoa, Nellie! limited series comic issue n, 1996
MHCS
Maggie and Hopey Color Special #1 comic, 1997
PC#n
Penny Century comic issue n, 1997 -
Measles #n
Measles comic issue n, 1998 -
II#n
Love & Rockets Vol. II comic issue n, 2000 -
Lo
Locas: The Maggie & Hopey Stories, coffee table book, 2004
Books
LR
Love & Rockets, all-Jaime digest-size book, 1987
LW
The Lost Women and Other Stories, all-Jaime digest, 1988
MM
Music for Mechanics collected Love & Rockets vol. 1. Collects issues #1, #2 + one story from Bonanza
CB
Chelo's Burden, collected L&R vol. 2. Collects issues #3, #4 + one story from Bonanza.
MP
Las Mujeres Perdidas, collected L&R vol. 3. Only Jaime stuff is title story + A date with Hopey.
TH
Tears from Heaven, collected L&R vol. 4, 1988
RW
House of Raging Women, collected Love & Rockets vol. 5
DF
Duck Feet, collected L&R vol. 6, 1989
DS
The Death of Speedy, collected L&R vol. 7, 1989. All-Jaime
FC
Flies on the Ceiling, collected L&R vol. 9, 1991. Has some Gilbert.
WB
Wigwam Bam, collected L&R vol. 11, 1994 (= #31-39). All-Jaime
CQ
Chester Square, collected L&R vol. 13, 1996 (= #40-50). All-Jaime
HS
Hernandez Satyricon, collected L&R vol. 15, 1997 (misc. stuff)
WN
Whoa, Nellie!, collected L&R vol. 16, 1999
LL
Locas in Love, collected L&R vol. 18, 2000
British editions: There are three '80s British editions of Jaime's stories:
Love and Rockets collects most of the shorter stories from MM to DF.
Mechanics contains the longer stories, including "100 Rooms", "Mechanics", and "The Lost Women".
Ape Sex has the material from DS and some miscellaneous earlier stories.
So if you have the British editions, you can pick up the "Collected L&R" starting with FC (#9).

All of Jaime's work from these books (whole stories and flashbacks, over 850 pages of comix) is compiled here in a single chronological sequence. The single most important clue for tying the chronology to the calendar is the fact that Letty Chavez's birthday falls on Leap Day. Other clues include explicit dates, characters' ages, references to earlier episodes, comparison to known facts such as when M&H had their own apartment, and even the girls' hairstyles.

Here's a testimonial for this very chronology from Loco Jaime himself:
I actually have made myself a chart because I was driving myself crazy. But I've got to admit, everything worked out. Everything fits... And recently I got a letter from some guy who said, 'That Love and Rockets chronology that they did for you guys sucks! This is mine: I went through every single issue...' And it was pretty dead-on. So I must be doing something right.
--Jaime Hernandez, Gaiman interview, The Comics Journal 178

Format for full stories: Title (sources; draw date); summary.

Flashbacks contain a hypertext cross-ref to the main story.

Location: Much of the action relates to Hoppers, a Mexican neighborhood in Huerta, California (and a stand-in for los Bros' hometown of Oxnard). Huerta is divided into Shelley St., Lado Sur, Piedmont, and Hoppers.
---

1949
Rena Titañon becomes a pro wrestler, at 14. She becomes Tiger Rosa's partner for a year, but this is only Rosa's scam to keep Rena out of the spotlight. (LR 78). She works her way up, winning contest after contest

1952
'Years' before Toyo's Request, Rena slams wrestler Bull Marie through the mat. (LR 105)

1953
Cocktail Hour with Mini Rivero debuts (locally in L.A.).

1956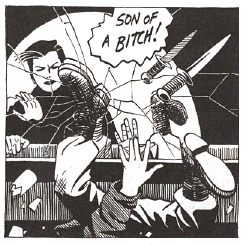 Toyo's Request (LR 97-108; CB; #3 pp 53-64: 1983). Toyo Hibonales, who cared for Rena when she was a child in Zymbodia, is now dying; she gives Rena a locket to give to her husband Zono, now a cop. She gets Zono's whereabouts from a thug named Sharkey Horwitz. Rena decides Zono isn't worthy of it. Zono is killed by another cop (who was aiming at Rena). After burying Zono, Rena picks up Manuel (Duke) Morales, almost a prosolar mechanic. Former wrestler Bull Marie is after her, hoping for revenge, but Rena knocks her down. Rena lets Duke take her out, but declines to meet Bernie Carbo, who Duke plans to ask for a job.
(Timing: Rena mentions waiting for a championship match with Tiger Rosa, which would put the story before Rena becomes champion. It also fits in with Rena and Royal Don double-dating with Duke and Sandra a few years later. One problem: Duke is thinking of asking Bernie for work here, but 10 years after the championship (LW 84) he's been working for Bernie for just a few months.)

1957
Rena Titañon defeats Tiger Rosa to become the world champion, at the age of 22. (LR 79; CQ 31).
Royal Don Rains asks her out, but she refuses (LW 124).
Who is Rena Titañon? (II#11 21-23: 2004) Rena travels to her hometown Caraxico in Zymbodia to wrestle a man. The fat cats arrange to buy up all the seats and keep the people out-- but her opponent doesn't show up anyway. Rena tracks him down, followed by the townspeople, and bests him in a brutal 13-minute fight. In a few days a revolution begins, and Rena's legend begins.
Itsy and Bitsy Kazinafek's 11-year reign as women's tag team champions ends (CQ 22)

1958
Isabel Maria Ortiz Ruebens born.
Timing: She was arrested at 18 in 1976.

1961
Rena starts going out with Royal Don Rains, a relationship which lasts several years. They double date sometimes with Manuel (Duke) Morales and Sandra (who he would marry almost 10 years later). (LW 124)
(Timing: the affair with Bernie was 'about ten years' after Royal Don.)
Beatriz Garcia (Penny Century) born.
(Timing: PC #4 10; also fits with her being out of high school in 1979.)
Two Huerta witches put a curse on the Galindos. Mr. Galindo dies and leaves his garage to Louis.
Timing: Some years before the Chascarrillos were born. (II#10 13).

1962
Ray is born. (He's three years older than Maggie.)

1964

Hopey (Esperanza Leticia Glass) is born, in Downey, Cal., a year before Maggie. Letty Chavez is born the same year, on Leap Day (but ends up in Maggie's class in school). (WB 108)
Cocktail Hour with Mini Rivero goes off the air, replaced by a teen dance show.

1965
Maggie (Margarita Luisa Chascarrillo) is born to Nacho and Quina Chascarrillo. Isabel and her cousin Chepa appear as little kids staring at the baby. Her aunt Vicki Glori is just out of high school, and has already won 16 matches. Her papa mocks her ambition to be a professional wrestler. (CQ 17)

1966
Home School (PC#3 1-22:1998) How Isabel (now a schoolgirl, about 8) started babysitting Maggie, and some early run-ins with her father. Her sister Chabela is seen dating the creep she later marries.

1967
'Cowgirl Vicki Lane' is disgusted to find out that some of her opponents are 'queers'. Rena Titañon is looking for a tag partner and chooses Vicki. She has her dye her hair blonde and change her name to Vicki Glori. (CQ 21) LR 79 adds that they 'quickly' won the tag-team title.]
(Timing: LR 79 specifies that Rena got into tag-team wrestling 10 years after winning her title.)
The Glasses move to Hollywood, and spend a few years trying to make Hopey and Joey into child stars. (MHCS 8)
Li'l Ray (FC 25-28; #28:1988) Ray Dominguez is about five, wearing his brother's sweater. His brother Benny won't let him hang around with him and Litos. As revenge, Ray wets his bed, ruining the sweater.
(Timing: since Ray is 3 years older than Maggie, she must be about 2 or 3 now. This episode also shows that Litos is a couple years older than Ray.)
Our Christmas! (HS 70-73; #43: 1993) Tiny tot Ray Dominguez awaits Christmas-- mostly, the presents-- along with his brother Benny and sister Blandina. There's also a cameo of Doyle, in school with Ray.
Maggie as a kid of 2 or 3, sees a "doggie" at Mrs. Galindo's house. Isabel tells her that Mrs. Galindo doesn't have a dog. (II#3 5)
Eulalio (Speedy) Ortiz is born (2 years after Maggie) (CQ 68)

1968
On March 1, Maggie and Izzy are at Mrs. Galindo's house, and see Louis leave flowers there, as he does every year as thanks for inheriting the garage. It's Louis who first calls her Maggie. (II#10 14-15)
When Maggie is 3, she goes with Letty to Knott's Berry Farm for her birthday, and is scared by the statues (WB 108).
Flashback (WB 110f) of Hopey as a toddler, refusing to smile for the photographer and embarrassing her mother.
TH 80 mentions that Isabel used to take care of her brother Speedy and Maggie when they were small.
6 Degrees of Ray D. Ation (MHCS 18-21:1997) Ray visits a school friend, Eddie, and is a bit disturbed by Eddie's friend Chuy accidentally killing a tadpole, and a little girl, Margarita, who's not wearing any choners. (Since Eddie has his sister Isabel take Margarita away, this is almost certainly Maggie as a toddler.)
(Timing: Ray's in school, so he's at least 6. Maggie's appearance and behavior are about right for a 3- or 4-year-old.)
To Be Announced (PC#5 back: 1999) Fantasy about preparations for nuclear war, featuring Ray's family.
The Chester Square strip mall in Texas, in better days. A VIP's car breaks down; little Beatríz is sent to bring them drinks. She discovers that the VIP wears a Russian hat and has horns. She tells him he should stay at their hotel, and he gives her a coin (a token from his amusement park). We meet Elva (who runs the motel) and Sara (who runs the eatery). (II#5 1-5)
(Timing: Pres. Johnson is mentioned, so it can't be past this year. (Well, it is his home state, so maybe not.) This makes Beatríz 7 or 8.)

1969
The Little Monster (LW 81-90; RW; #14: 1984-85). A wrestling match in New Keops. Vicki has become rather arrogant. Rena goes out with Duke Morales, who's been working with Bernie Carbo, captain of the Saturn Stiletto, for several months. Bernie doesn't want to meet Rena. When the 'little monster', India Chala, bites Crusher Gaines after he's been teasing her, he goes after her with a gun. He ends up shooting up a statue, and Rena beats him up. Crusher's jailed, and Chala's deported. Sancho San Jo, ruler of Zhato, proposed to Rena because of this.
(Timing: It's stated that this story takes place 15 years before the framing story, which was set during her comeback attempt. Duke says Sandra is at home, which suggests that they're married by now.)

1970
Duke introduces his boss, Bernie Carbo, to Rena (LR 69).
(Timing: this must be some time after Bernie was refusing to meet her in 'Monster', but before he and Duke were looking for Rena in 'Life at 34'.)
To Be Announced... (PC #2 6:1998) Ray discovers Channel 1 on the TV.
Timing: This could be any time in Ray's childhood, but him being 8 seems about right.

1971
Rena and Vicki, tag team champions for four years, lose to the Hogg sisters when Vicki won't help Rena. Rena punches her out, and they become enemies. (LR 79)
Vicki's version of this story is given in CQ 25-31. Seems she's overwhelmed by all the 'queers' in pro wrestling; suspects Rena is one, apparently because Rena doesn't share her prejudice. An interview not much later: Rena's willing to forgive, but Vicki won't-- Rena punched her out. Now she's gunning for her belt.
Queen Rena: Life at 34 (LW 109-116; RW; #15: 1985?). Rena Titañon is pursuing Sharkey Horwitz, because he beat up and robbed a woman, Rose Ramelli. Bull Marie catches and arrests Sharkey before Rena can get him; then knocks Rena out. Duke Morales and Bernie Carbo find them. Carbo asks Rena out. Rose springs Sharkey, who runs for the border, only to be met by Rena and Rose, who goes after him with a big stick.
(Timing: Rena's still champion, but now Vicki's rival. Carbo got interested in Rena after hearing about the Crusher incident 'a couple of years ago'.)
(Note: if CQ 31 is right that Rena was 22 when she won the title, and LR 79 that she held the title for 10 years and teamed with Vicki for 4, she should be 36 or more now, not 34.)
Bull Marie's last fight, at 55: the champion, Rena, whales on her. (LW 127f).
(Timing: This fight was set up in Life at 34 as getting Bull Marie out of Rena's hair permanently. LW 127 says this was about 15 years before House of Raging Women.)

1972
Letty is 8, Maggie 7; they go to Disneyland (WB 109).
The Birmingham Lady Bashers become tag team champions (WN #1 p 19).

1973
Vicki Glori steals the championship from Rena (she used the damn ropes) in New Keops. It's Maggie's birthday; she's 8. (LR 79)
This event is also shown in CQ 30. Rena comes by afterward to wish Vicki luck. Now she's in love with a fella she 'can't beat up'- and she's pregnant. Rena knocks Vicki down for making fun of this.
(Timing: CQ sez Rena is now 38, and had been champion for 16 years. And LR 79 puts all this ten years before the Zhato adventure.)
Hopey's parents get divorced at about this point (15 years before Wigwam Bam; see WB 54 and (MHCS 8)). Her mother has the distinction of being the only one of dozens of Hispanic characters in L&R who has a Spanish accent.
Before her rematch with Vicki, Rena is kidnapped and taken to Zymbodia, beginning a life as a superhero (LR 79). Vicki (LW 120) claims this is bullshit, Rena was pregnant. CQ 31 confirms that Rena was pregnant, but this time Vicki says that after having the kid Rena got 'wrapped up in international affairs'.
Rena Titañon has an affair with Bernie Carbo, captain of the Saturn Stiletto, and they get engaged (LR 64, 69, 79)
Rena (DF 105-6; #19: 1986). The Saturn Stiletto is stranded in Zymbodia. Rena arrives with the fuse Duke needs to fix the rocket. Bernie is tired and doesn't want to go out, but Rena didn't walk all that way for nothing. They head on out. It's Duke and Sandra's anniversary.

1974
Rena's son Tony born.
Carson Eames Becker Jr. High. Beatríz, who recently moved to California from Texas, accidentally discovers comics, due to a nerdy girl, Dolores, and her brother. While Beatríz is hitchhiking, Costigan's car stops to tell her she should be in school. Beatríz throws her coin back at him. Beatríz decides that she wants to be a superheroine, and only rich businessmen can help her (II#5 5-9)
(Timing: Dated in the art.)
Ray sees Beatríz in Jr. High and gets a crush on her-- without ever talking to her. (PC#1 6)

1975
Maggie's family moves out of Hoppers, to Cadezza; she's 10. (Her father has been working there for some time, and they'd only been seeing him on weekends.) (WB 109, TH 81)
During the Zymbodian revolution, the Saturn Stiletto, hired to transport the biggest load of pito ever out of Zhato, is shot down and crashes in the jungle (LR 54). This puts the kibosh on Rena's wedding plans, as Bernie is lost. (We find out in LR 91 that he ends up in jail.)

1976
Letty's 12th (3rd) birthday. Maggie comes into town to celebrate, and sees Letty's new chuca look. They play her brother's records, notably their 'secret anthem', Wigwam Bam. (WB 109)
Isabel Ortiz, a founder of Las Widows girl gang, is arrested on her 18th birthday for urinating on a lawn (TH 50), and in jail is sliced up by southside chucas. After this, she 'cleaned up her act', finished high school, and got a teaching scholarship to college. (TH 80)
(Timing: Izzy was in college when Maggie moved back to Hoppers.)
Huerta High School. H.R. Costigan (with long hair in back!) addresses the kids... apparently he does this as a way of meeting female problem students. He meets Beatríz and gives her the coin back. (II#5 10-11)

1977
Isabel's father wants her to be a teacher, but she wants to write mysteries (TH 81). They argue almost every night.
At 12, Maggie moves back to Hoppers, with her own chuca look, and hangs out with Letty. Their old music isn't cool anymore, but eventually they get into punk (WB 109f). Doyle mentioned as a Devo head at school. TH 81 says that Maggie's mother moved back alone with the children, because her husband was screwing another woman in Cadezza.
Maggie moves in with tia Vicki (CQ 64)-- according to LW 1, so she can continue working at Sal's Garage. The other kids (Esther, Manuel, Angel, Rubén) stay with their mother in Dairytown (Montoya).
(Timing: WB gives her age. PC #3 says her parents split up in 1978-- that may just be the date of the final divorce since the marriage has obviously been falling apart for years.)
Terry (Theresa Leeanne Downe) as a teenager, maybe 14 or so, being introduced to Del Chimney (Porfirio Diaz Rubinski) by Stevie TV, who's trying to get rid of her before he gets married. (FC 21)
(Timing: this must be some time before Terry meets Hopey.)
Just to relieve the boredom, Ray takes part in a few burglaries with 'Litos and Big Eddie. (PC#2 3)
(Timing: Ray says this was when he was about 15.)

1978
The KKK Comes to Hoppers (HS 40-43#45: 1994) Ray Dominguez is hanging with Mando and Ignacio. The KKK comes to town, showing Birth of a Nation, supposedly to raise money for a white family whose son was murdered by Chicanos (and which refused the money). A riot starts, but dies down. Later in the day the kids see a truck leaving-- they never see the KKK guys at all.
(Timing: It's the summer before Ray's senior year.)
Hopey's HS class gets a new kid, with an attitude: Terry Downe. Julie Wree complains to a friend that she and Hopey used to be best friends, but then she got 'weird'. Terry takes Hopey to Hoppers to see Del Chimney; but she threatens both Del and Hopey with a knife-- she wants Hopey for herself. (FC 22)
(Timing: The timeline in '10 Years' shows Hopey moving in with Terry at Del's before Maggie moves to Hoppers, or about 2 years before this; but that seems early to me: Hopey would have been just 12.)
Big Eddie (Ortiz) gets married to a Montoya (Dairytown) girl. Litos is best man; Ray, Mando, and Louis are also in the wedding party. Ray is a senior. Maggie and Letty Chavez are there too; they're freshmen; Big Eddie's brother Speedy (now about 12) is running around. (DS 59)
(Timing: before Letty's death, so Maggie is 13.)
Young Locas (LW 1-3; RW; #13, Lo 175: 1985). Maggie at 13. She's living with Aunt Vicki. Her friend Letty Chavez wonders why she's not hanging much. It's because she's working as a mechanic with Harvey and Louis at Sal's Garage. They think she's got what it takes to someday become a prosolar mechanic. Louis is the one who started calling her Maggie (her older friends call her Perla). We see Isabel here, and a premonition of Hopey. Letty is killed in an auto accident, at 14.
WB 110 also tells about Letty's death, and Maggie's mourning for her.
(Timing: We know from WB that Maggie was 13 when Letty died, and from DS 59 that she's a freshman in high school.)
Just to meet punk fans, Maggie sometimes goes with her big bad cousin Licha to Del Chimney's. Licha scored drugs, but Maggie just stared. (WB 110)

1979
Ray and Doyle hanging out at the mall with Larry Ybañez, whose massive fart scares away some girls and cracks Ray and Doyle up. (FC 41)
Licha beats up Del Chimney with a chicken-wire fence. This ends Maggie's visits to Del's. (DF 80)
Hopey tells Terry Downe not to see anyone else (as Terry had once threatened her). Another panel shows the two of them in the tub together; another, Terry and Hopey beating up Julie Wree. (FC 23)
Maggie and Hopey's first, rather unpropitious meeting. (LR 43f) (WB 110 explains that Isabel introduced them because Maggie didn't have many friends after Letty died, and she knew that Maggie liked punk.)
(Timing: WB says Maggie was still getting over Letty's death. Maggie would be 14 now and a sophomore, Hopey 15.)
At either Maggie and Hopey's first meeting, or another one soon after, Hopey is shown grabbing Maggie by the shirt, and Isabel is trying to keep her away. (TH 81)
The Secrets of Life and Death (DF 77-82; #19, Lo 246: 1986). Terry and Hopey have just finished beating up Julie Wree. (Not sure if this is the same fight as FC 23, or if this is a pastime of theirs.) They see Maggie walking with nasty chuca Licha. Hopey pretends that she hates Maggie, then acts nice to her, just to get Terry riled. Maggie asks Isabel if Hopey is being nice for real. Isabel's distracted; she's addressing wedding invitations.
Hopey takes Maggie to a party at Del Chimney's, where she lives with Terry, in a closet. They see schoolmate Doyle Blackburn there, with Mike the Viet Cong; he mentions another schoolmate, Ray Dominguez. Terry is jealous. Hopey lives here because her mom hates her. Maggie's sick of living with tia.
Vicki finds Hopey at the door. They trade insults, and Vicki lifts Hopey over her head; only Maggie's Pocahontas imitation saves her.
Isabel marries Jack Reubens, her English professor in college, who's twice her age. Maggie and Hopey are bridesmaids. (TH 81)
(Timing: TH 81 says that the marriage lasted about a year. Also note Isabel addressing invitations in 'Secrets.')
Maggie and Hopey help Isabel move into her new house, after her marriage to Jack. (DS 3)
Amor y Cohetes (TH 32-36: 1983) Beatríz García (the later Penny), just out of high school, wants to see the world; she moves to New Keops and waitresses at the Bumble Bee. She meets Rand Race, working on a menial job (but driving a rocket car); he pursues her, but she's not interested.
(Timing: She doesn't see him again for a year, by which time he's a prosolar mechanic. She must be about 18, and she's enough older than Maggie and Hopey [now 14 and 13] to call them 'babies' when she first meets them. The next flashback gives the date.)
H.R. Costigan, now a big investor in New Keops, is drinking at the Bumble Bee. His waitress is Beatríz, who drops that coin in H.R. Costigan's drink. He invites her to his room for sex. (II#5 11-12)
Timing: Dated in the art.

1980
Isabel gets divorced, and has an abortion. (Timing: demonstrators' placards show 'Reagan in '80.') (FC 1)
Hopey mocks Maggie for having a poster of Rand Race. (LR 48)
Maggie's left out in an alley as Hopey and Mary sneak into a show in L.A. She ends up talking with a local guy, 'Top Cat' Tony Chase. They're interested in each other, but have a hard time hooking up... though they do make love one time when Maggie is left (sick) in his care for awhile. (PC #7 3-12)
(Timing: Jaime gives the date; and all this happens before Maggie cuts her hair, below.)
Hopey as an accomplished tagger; pursued by officer Sado. This is the case that makes him sergeant. (LR 129)
Hopey writes 'Hopey Loves Maggot' in wet cement. She and Maggie run into Ray on the street; Mag says he's her 'boyfriend', and Hopey embarrasses her by introducing herself. They sneak into Del's house; he's kicked Hopey and Terry out, but he's out of town. Hopey 'grabs her boobs' and kisses her. They make out, apparently for the first time. (DS 13f, 17-19)
(Timing: can't be much later, since Hopey stops sporting just a curl. And Maggie gets her hair cut here. )
Maggie, Hopey, Mary Christmas, and Terry outside a punk club, where Doyle, Mike the Viet Cong and others are getting into fights with the cops. Terry takes the girls over to the house of an enormous, ill-tempered bi named Lois. Maggie's accepted when Lois learns she's Vicki Glori's niece. (WB 8-12)
(Timing: Has to be before Doyle starts his 2-year jail term.)

1981
Maggie's first meeting with Beatríz García, who Hopey calls Penny Tentiary, which Maggie turns into Penny of the Century, and Penny adopts as Penny Century. Penny is selling flowers to get money to go to New Keops. A bit later, Maggie and Hopey get into a fight over her. (DS 87f)
From PC #7 12 we see that Maggie and Tony Chase are still circling round each other. (Timing: Maggie is seen wearing a beret, which only appears in stories set this year.)
Amor y Cohetes, continuation (TH 35): Penny takes a vacation in New Keops. She sees Rand Race, now a prosolar mechanic, and pretends to be his fiancée before a TV crew. His girlfriend leaves him, and Penny... well, we don't learn whether this was when Penny started dating him.
(Timing: DS 87 must refer to this trip to New Keops; before her first trip Rand wasn't famous, and Maggie already has his picture. The affair is long over before Maggie starts working for Rand, 1982).
Sometime before 'Mechan-X', Rand Race was going out with Penny Century (LR 40). According to DS 66, Rand got Penny pregnant. She never told him, but got an abortion and split on him. This is what made Penny weird, according to an old roommate of hers.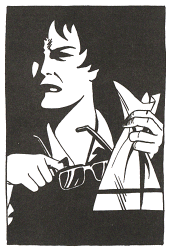 How to Kill a... By Isabel Ruebens (MM; #1:1981) Isabel having trouble writing; goes through a strange dream sequence, which doesn't seem to help any.
(Timing: Links into 'Flies on the Ceiling.' Isabel is still well groomed here, and she only got really crazy after Mexico, so 'How' comes first.)
Flies on the Ceiling (FC 1-15; #29:1988) Isabel in Mexico, sometime after her divorce... and abortion... and attempted suicide. She becomes a caretaker for a man and his son Beto; and they end up falling in love. But her demons won't let her alone, and eventually she leaves for home.
Sez Speedy in TH 82, when Isabel came back from Mexico she stopped caring about her appearance, and started "scaring all the neighbors to hell."
Maggie and Hopey take their new friend Daphne (Daffy) Matsumoto to Lois's house, rescuing her before Lois can do anything with that baseball bat. Lois no longer likes Vicki, since she's straight. (WB 44f, 49f)
(Timing: They met Lois in 1980. It's hard to believe that relationship would last more than a year. However, if Daffy is 16 in 1984, she's only 13 now!)
A Date with Hopey (LW 132-135; MP; Bonanza, Lo 252: 1986-87). A guy named Henry hangs out with Hopey and Maggie at Del's Island in Hoppers, till his buddies, his transportation, are kicked out. They're all still in school. Maggie and Hopey get their own apartment (at 451 something St.), and Henry hangs out with them a lot. He falls in love with Hopey, but their 'date' doesn't go well, and they stop seeing each other.
Locas Starring Hopey (LR 127-134; TH, Lo 91: 1984). Hopey, Maggie, and Isabel plot to tag a tempting blank wall. Maggie's at a party (with Licha and Speedy) which is supposed to distract Sgt. Sado, but forgets to call, because she's passed out drunk. Sado catches Hopey anyway, and she spray-paints him in the face. M&H are living at 451.
Terry Downe steaming, seeing Hopey hanging out with Maggie. In one of these scenes Terry is working at Monty's. (FC 23)
Barrio Huerta (MM; #1 p. 27: 1981). A factory worker (called Lencho; but he looks like the young Manuel Morales) comes home to his wife (? sister?) Rosalba, presumably in Hoppers, to learn that 'the baby' is dead. Last panel: Rand, Yax, and an unidentified figure looking at a strange sculpture and calling Duke over to see it. (Timing: Got me. I've placed it here by drawing date.)
Penny Century, You're Fired! (MM; #1 p. 28: 1981). Penny Century, daydreaming about being Atoma, gets fired from a factory job. H.R. Costigan wants to console her by buying her anything she wants, but he can't do what she wants-- make her a superhero.
(Timing: This could take place anywhere in the next 2 years; I've placed it here according to drawing date.)
Locas Tambien (LR 41-44; MM; #1: 1981) Hopey and Maggie, and Hopey's younger brother Joey kicked out of the library when the girls scream a refrain. They go to Isabel's house (she seems to have left home fairly recently) 'cos Joey wants some occult books. Isabel acts very weird. They find Speedy Ortiz (with Litos); Speedy is friendly, but still scares Joey.
(Timing: Set 2 years after M&H's first meeting. They don't live with Izzy.)
---
[Home] [1949-1981] [1982-88] [1989-95] [Non-L&R] [Characters] [Links]
---