Love & Rockets Links
Last updated 19 Jul 2009. Mail me with changes!
---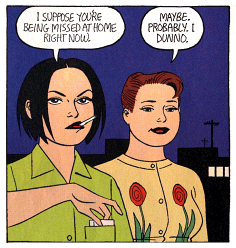 Why Jaime is m' main man; and what are the best L&R books.
Their publishers' page dedicated to Los Bros, a good place to see what books are currently available.
If you got here from my page, you've already seen this. An obsessively compiled chronology of all of Jaime's stories.
All the characters in Jaime's comics, cross-linked to the chronology.
Proving he is notable, Jaime has a Wikipedia entry.
Lukas Kustner created an L&R message board (the first I'm aware of, at any rate, and it's about time).
A 2008 interview by Bryan Hood and Nik Mercer in Anthem magazine.
...of Jaime by Robin McConnell, at Emerald City Comicon in 2009.
An academic paper focussing on Jaime's depiction of sex, lesbianism, and ethnicity.
Very nice review of Ghost of Hoppers. Click through the ad (it takes only a few seconds) to read the whole review.
Chrisis calls itself a "church of art", and includes a shrine to Jaime, with some slick scans and a sort of prose poem of homage.
By Patrick Markee, who thinks it's literature. This must be Gary Groth's wet dream. (No longer free online, unfortunately.)
J. Stephen Bolhafner discusses both Hernandez brothers, including reviews of each of the books.
A brief intro to Jaime, plus good capsule reviews of five of his books.
An affectionate general intro to los Bros.
A short bit on both Bros-- not deep, but hey, it's a mention in Time. (It also has a recent picture of them, which is worth a click!)
Tom Knapp reviews most of the series.
Arthur Goldstuck's account of the thought police going after L&R in South Africa; plus an interview with Los Bros.
A newspaper interview, by J. Stephen Bolhafner, with Los Bros. Basic stuff, but some of the basic questions-- e.g. why los Bros do women characters so well-- are pretty interesting.
A biography of Jaime in German, from his German publisher.
This LA gallery was showing Hernandez pix till March 1998. They must be cool-- they also have art from Moon Unit Zappa.
A entry on Los Bros put up by a Dutch comics shop.
Short reviews of various L&R books.
Some other interesting comics-related links:
My reviews of various comics. And why not check out my own comic, Fuschia Chang?
Surely by now you want to create comics? Tips and advice on everything from what tools to use to how to self-publish.
Excerpts from the magazine, mostly an attempt to get you to buy it of course, but so far it's contained some interesting stuff.
Dead links
Just in case they ever come back. Or you could try the Wayback Machine.
An introduction to L&R in an Italian on-line comix mag. By Fulvio Morlacchini.
Something about Los Bros in Hungarian, from which we learn that Maggie is biszexualis and Hopey is leszbikus.
Doesn't everybody love Shonen Knife?
A mini-review of Love & Rockets.
John McCoy's guide to what stories from the comic are in the first 10 collection
A good-sized page in Dutch on the comic.
A review of Modern Sex, Jaime in French-- one of about 50 titles the site thinks belongs in the "ideal comics library".
Part of a grrl zine, "Jitterbug Fantasia". Excellent discussions of many comics, including L&R.
An interview with Los Bros in Portuguese, at about the time of the Maggie & Hopey Color Special... Jaime reports that the industry is dying and he's no longer lionized at conventions. He also mentions... big surprise... that it was Beto who exerted the most pressure to finish work during the L&R days.
The cover and a brief description, en castellano, of the Spanish edition of Las Mujeres Perdidas.
A (positive) review of Whoa, Nellie!, by Gabe Soria.
An even more glowing review of Penny Century #3, by Joe Zabel.
An extensive gallery, plus character descriptions. Includes some of Jaime's album covers.
A plug piece on the revived Love and Rockets comic.
Sarah Graham's page of stuff on L&R and other graphic novels, including some print resources.
An excellent interview with Los Bros at Salon, with some nice ruminations on the usual questions about women, and the news that Jaime is engaged (awww). The interviewer, Amy Benfer, also has some ruminations on the comics.
What the heck is Love & Rockets anyway? Find out here.
John McCoy's family trees of Maggie, Hopey, and Izzy; plus those of Luba, Heraclio, Pipo, and other characters from Gilbert's Palomar stories.
A guided tour, with plenty of gorgeous scans, of some of the feisty heroines in alternative comics, including Los Bros'. Possible future venue?
Elsewhere on the same site, a page about Jaime's world, with plenty of big scans, and brief introductions to the characters.
An academic look at L&R, from Tamara Ja.
Paula Gonzalez interviews Los Bros on music.
Dan mentions Los Bros at a couple points. I particularly liked Jaime's story about himself and Hopey.
Alison Wight's page, with some L&R pix.
A personal reaction to L&R, from Sweden, with some scans.
A page in Swedish, defining prosolar mechanics (apparently the author's career goal) and featuring Rand Race.
A short review which manages to get the name of Jaime's latest comic mixed up with a Beatles song.
A fan page, with some L&R links.
---