Not The DFC
By popular request... a page I had up when Spinnwebe was down (and back when it had a black background).
It has come to our attention that some of you people are really sick, and need the DFC as an outlet. As a public service, then, we feel obligated to provide this Substitute Not The DFC Page. Select any of the fine alternatives below.
[ Back to the Page o' SpinnStuff ]
---
The Dysfunctional Beetle Bailey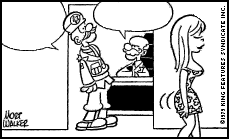 "I haven't seen that much silicon since Omaha Beach."
"Forget about her and tell me about yourself, big boy."
---
Le Tintin Dysfonctionnel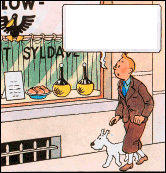 "It's a dilemma, Snowy. I like knickerbockers-- I think they're a good look for me. But dammit, I'm not getting laid."
---
The Functional Robert Crumb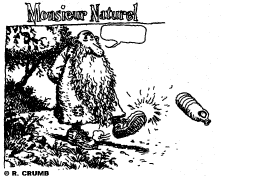 "Actually the rich and the fundies had it right all along. What's important is to make money and love the Lord."
---
It's just not the same, is it?

[ Back to the Page o' SpinnStuff ]
[ Browse the Metaverse ]
[ Hey, maybe SpinnWebe is up! ]