Secret History of Verduria: College Hijinx
---
[ Follow Ups ] [ Post Followup ] [ Virtual Verduria Message Board ] [ FAQ ]
---
Posted by Mark Rosenfelder (207.229.151.15) on November 07, 2000 at 02:44:31:
In Reply to: Re: suggestion posted by Mark Rosenfelder on November 01, 2000 at 17:31:23:
For some reason I decided to paint a huge map of the Plain on my dorm room wall. There was some idea of using it during the D&D sessions, but it took two years to finish... and then I lost the room in the room lottery.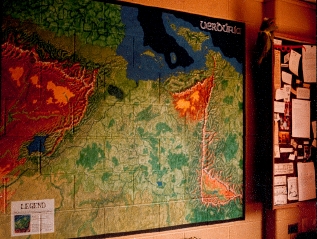 This map-- or rather a blown-up photo of it-- is the basis for the fancy maps of the Plain and of Verduria. I have a series of pictures of the map in progress. It started out as blank white; then I painted the mountains in dark grey. Then I painted the terrain colors over them, in a transparent wash.
If you're wondering: I checked by a year or so later, and the map was still there, but covered with posters for rock stars. It's probably been painted over by now.
More painting: it's an NU tradition for various groups to repaint a hunt of rock mnemonically called The Rock. Our D&D group painted it one year. (Why deep green? You should know that...)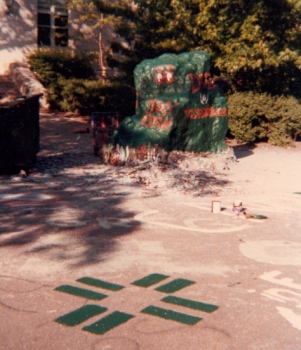 You may be able to read the legend D&D Verdúria on the Rock, and to the left one of the player names-- Tay Örn. (I leave you to figure out the meaning of the name.) The other players wrote their names on the back. In the foreground you can see the symbol of the Cadhinorian pagan religion.



---
---